Located 2km from the Rivière des Anguilles, "La Vanille Réserve des Mascareignes" is a zoological park stretching over 6 hectares. The park houses 2000 crocodiles of which half are bred for trading. The other half helps towards the preservation of the species.
One can safely observe these huge crocodiles (some are 5 or 6 metres long) in the pools. 500 turtles, including Giant Aldabran Turtles can also be spotted. One of the attractions of the park is the insectarium, filled with over 20 000 species, including butterflies and beetles. This zoological park also boasts a tropical garden consisting of banana trees, giant bamboos and a variety of palm trees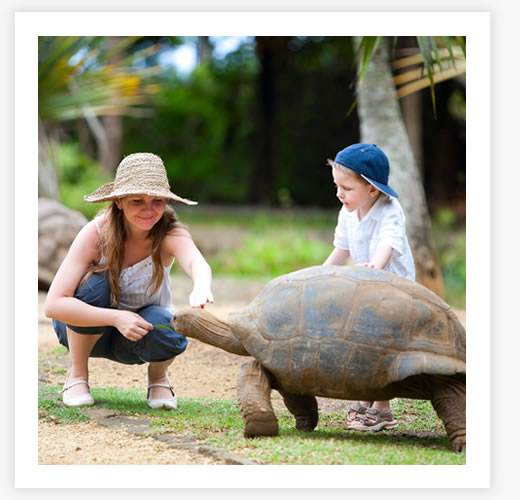 The Safari Adventures Mauritius brings to you the first 'Lion encounter' on the island. This exclusive activity is available all over the year at the Casela Nature Leisure Park Mauritius. This is a unique opportunity available only to the people who are fortunate enough to visit the park at least once in their lifetime. they may feel and study the primitive behavior of the lions and cheetahs and share their "pride" of being in their natural state.
Lions are the second largest members of the cat family. They are the only cats that live in big family groups. Their primary habitat is green plains, savanna and forests. Male lions stay with a pride only as long as they are strong enough to defend their group from other males. A lion's roar can be heard up to 5 miles away. The life span of a lion in the wild is about 12-18 years. In captivity it is more like 20-30 years.
The Casela Bird Park lies in the Black River Gorges area of Mauritius. It is a major bio diversity hotspot and is rich in varied flora and fauna. The Park is spread over an area of 20 acres. The Casela Baird Park is probably the most famous for the rare Mauritian pink pigeons, though there are around 120 other bird species at the Park. The vegetation at the Park includes small "yej" trees, as well as seasonal orchids that find an ideal growth environment in the humid, cool climes of the Casela Bird Park. As to the avian life, one might find birds from all over the world at this Park.
Apart from the Pink Pigeon, you may also come across kites, kingfishers, orioles, mynahs, bustards and many other kinds of birds. The ponds dotting the Park are a haven for tortoises, fish and many waterbirds that live off the fish. Don't forget to visit the many small streams and waterfalls cascading from the hilly crevices. The Casela Bird Sanctuary is also home to animals like tigers, lemurs, macaques and many kinds of lizards and geckos.